We first learned of Peter Meyer from his amazing 4-ball marathon joggling performance. After some investigation, we got in touch with him and asked him to talk more about his joggling life.
Introduction
My name is Peter Meyer. I am 52. I live in Erlangen, Germany and I run a kindergarten there. My wife and me have four, now adult children, one daughter lives in Chicago. She told me first about 'this guy also joggling along the lakeshore'. So that made me interested in browsing a bit and that's how I found Perry's site JYAJ.
What is the story of how you learned to juggle?
MEYER: I learned to juggle (the easiest pattern with three beanbags), when I was a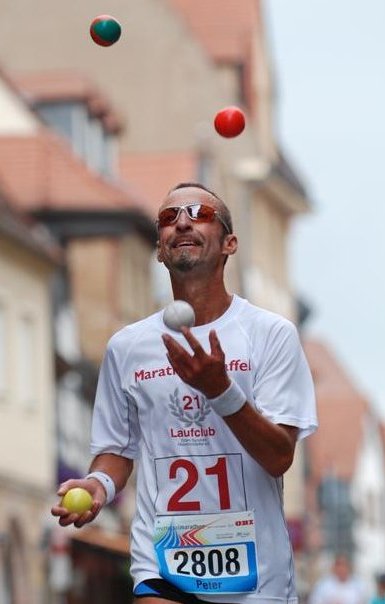 student. A friend of mine taught me to juggle the cascade. At that time we were four people and a dog sharing a very small house. That's why I always had to practise outdoors, often having to be careful mainly because of the dog snapping. This prudence hasn't lost its importance up to now.
When did you start joggling?
MEYER: Reading a juggler's guidebook, I learned about some people joggling with three balls in Central Park, New York, and that encouraged me to start joggling in 1998.
Why did you start joggling?
MEYER: As for the running: I was a long-distance runner in school times. As a youngster I trained on a regular basis every day. But then at the beginning of my twenties I had a long break due to a rupture of the Achilles' tendon.
As for the juggling: I liked these easy patterns of juggling while listening to music. For practising more complicated patterns I never found the time.
As for the joggling: Having lost the chance of becoming a top runner and not being a top juggler by any means, I opted for this still unusual combination which offered me the possibility to satisfy my competitiveness. After a few weeks of training, the number of drops decreased steadily and I began to actually enjoy running through the town, forest and fields, experiencing a tremendous harmony due to this combination of body-and-mind-activity.
How many races have you done while joggling?
MEYER: I have done a lot of half-marathons and up to now three three-ball-marathons and recently my first four-ball-marathon.
What are some of your favorites?
MEYER: Obviously, my very first marathon in Berlin in 2004 will stay unforgettable. There where music bands all along the streets and me juggling to the rhythms. But just as memorable is my recent marathon in Munich 2009 where I was joggling with four beanbags first time. I had been preparing for that event in a very disciplined way and I was rewarded by the encouraging comments of spectators as well as fellow runners, and finally by the fantastic atmosphere in the Olympic Stadium – the finishing line of the marathon.
What are some of your most interesting joggling stories?
MEYER: I think we all experience lots of little stories while joggling all those numerous kilometers, because we are in the focus – by the way, a definitely good motivational aspect for us jogglers. For example, giving a very short basic juggling lesson in the street because of having been stopped by a really interested spectator. Furthermore there are rare situations where you meet runners asking you to let them have a go at juggling – hereby giving you the chance to motivate them to take up this sport.
Not to forget the funny story where a tiny dog, appearing out of some bush in a park, just snatched one of my beanbags and sped off – the sudden appearance of the animal had obviously caught me unaware – and it took me a lot of patience to finally get back my luckily still intact beanbag. And finally, it's always great, exploring new places, different landscapes whichever country I travel to and getting in touch with people (who are curious to find out about this sport) and seeing their various reactions: greeting me with smiles, admiring looks or comments or perceiving me as crazy.
What kind of training do you do? How fast do you run?
MEYER: About three or four times a week I go joggling. In addition, I do some muscle build-up training at least twice a week using a Thera-Band.
My pace is average for most M50 runners. So with joggling, I am not too bad. But I try, not to focus on my finishing times. For me, it is more important to complete a run performing my juggling show in good spirits.
Do you eat a special diet?
MEYER: I am very lucky that my wife (she is a marathon runner, too) cooks excellent, healthy, mainly vegetarian, meals.
How long do you think you will keep joggling?
MEYER: Like most jogglers – I guess – I am addicted to joggling. My daily life has become really enriched by some of its positive effects, so I cannot find any reason why I should put an end to this.

Do you have any advice for would-be jogglers?
MEYER: For training: After having trained sufficiently to look "through the beanbags" on even and smooth surfaces, try more difficult tracks with potholes, creeping tree roots on the ground and "show them that they cannot trick you".
In races: I mostly start at the end of a startfield. This is more relaxed to begin with, it is easier to get over the natural nervousness and to quickly find your own rhythm.
Where do you see the sport of joggling in 10 years?
MEYER: One of my dreams is, joggling becoming an Olympic discipline. But at first, I think, we should support the implementation of joggling into physical education lessons at schools. And we should help to make known the good effects of joggling on health, recreation, concentration, neurophysiological effects etc.. This would increase the popularity of joggling and would help to break down the barrier that joggling is something exotic and too hard to learn.
How important is it to you to stick out of the crowd during a race?
MEYER: Despite the fact that it's nice to be in the focus, the more important factor is to promote this sport and make it known to as many people as possible. To reach this effect, it's vital not to bathe in your singled-out position, but to be happy to share it with more fellow jogglers in the future. This creates an inner dialogue we all have to face.
Thanks Peter! Good luck with your joggling adventures in the future and keep us posted on how you're doing. You can also see Pete's joggling website here. And go here for more for more joggling interviews.
{ Comments on this entry are closed }